Nowoczesne domy na wodzie
Modern houses on water
Moderne Häuser am Wasser
Bogate, stylowe wyposażenie
Rich, stylish equipment
Reichhaltige, stilvolle Ausstattung
Konfiguracja pod każdego z klientów
Configuration taylored for each consumer
Konfiguration für jeden Verbraucher angepasst
Wspaniałe warunki, komfortowy wypoczynek!
Excellent conditions, outstanding rest!
Ausgezeichnete Bedingungen, hervorragende Erholung!
Prywatny taras z leżakami!
Private terrace with sun loungers!
Private Terrasse mit Liegestühlen!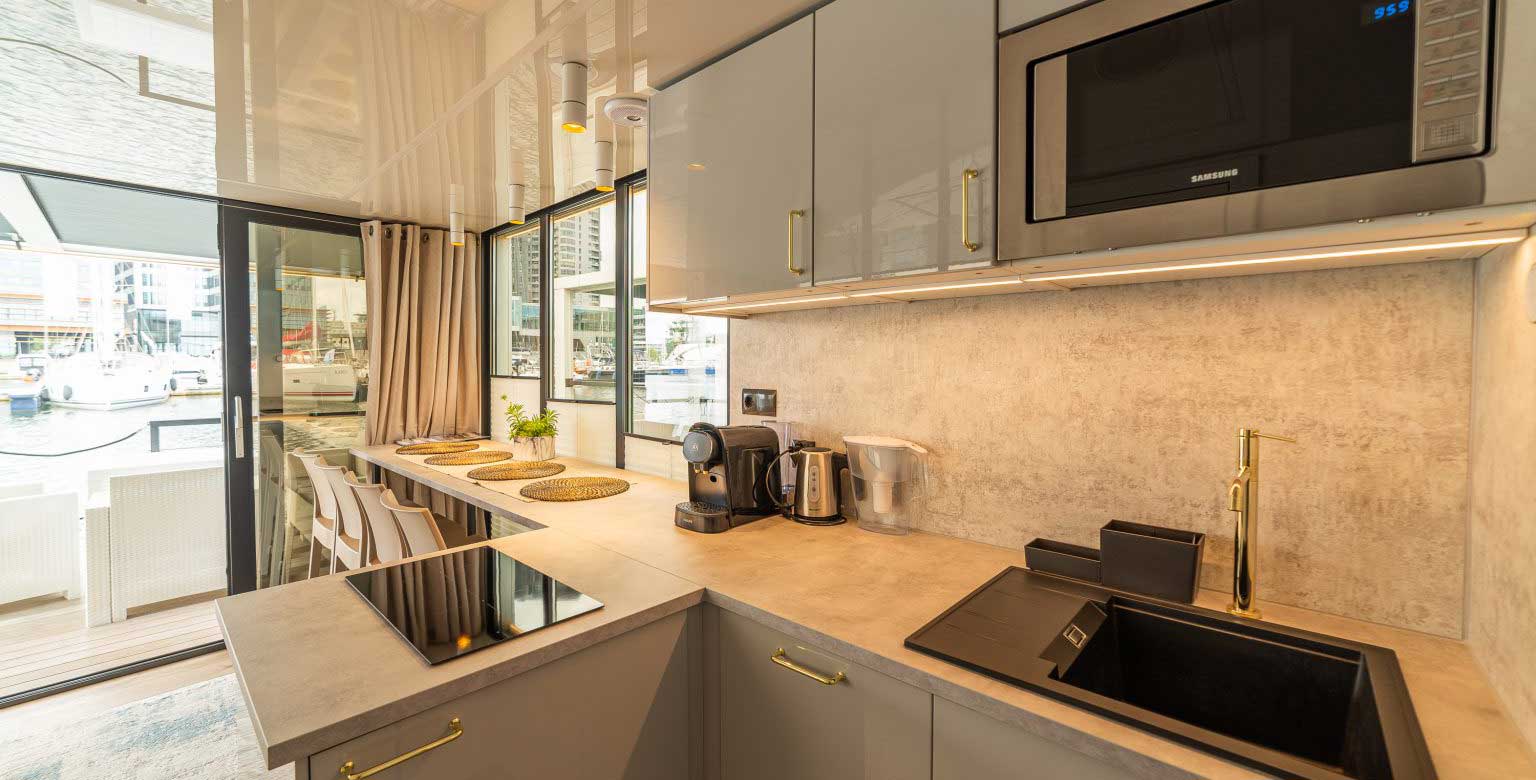 W pełni wyposażone wnętrze
Fully equipped interior
Vollständig ausgestatteter Innenraum
More than 300 La Mare houseboats are already floating in many European countries.
Our houseboats stand out from other constructions by their quality and finish. Their good quality, longevity and durability is due to the use of high quality components by La Mare. The crew of the shipyard is trained and experienced in building this type of vessels. Our 12 years of experience guarantees your satisfaction with the purchase.
Houses on water from the manufacturer
We are a manufacturer of houses on water, or houseboats, which are a great way to have your own charming place outside the city, as well as a capital investment in the form of an extraordinary apartment for rent, anchored in the marina.
Houeseboat is a unique property that combines stunning design with advanced technologies used by the manufacturer. Houses on the water are available in different variants – travelers who do not like to stay in the same place for long, can bet on the floating version, which allows you to move from place to place without giving up the comfort and security that comes with having your own roof over your head.
On the other hand, people who are looking for an alternative to a plot of land outside the city can choose between different models of houseboats in stationary versions. The first and the second option is also an excellent way to invest capital in apartments for rent.
We are a manufacturer of houses on water in various sizes, so there is something for everyone, both for those who want to relax alone, and for families with children. The usable area of houseboats can range from 20 to 60 square meters. If we add terraces (one or more), which on warm days become a natural extension of the living area, we can offer even 150 square meters. As an experienced and for many years present on the market manufacturer of houses on water, we place great emphasis on the quality of workmanship and long life of the offered products, and we have already sold over 300 units (floating and stationary).